All Out Inspired
Get the latest on events, ideas and ways to go all out in Columbus, Georgia!
Market Days on Broadway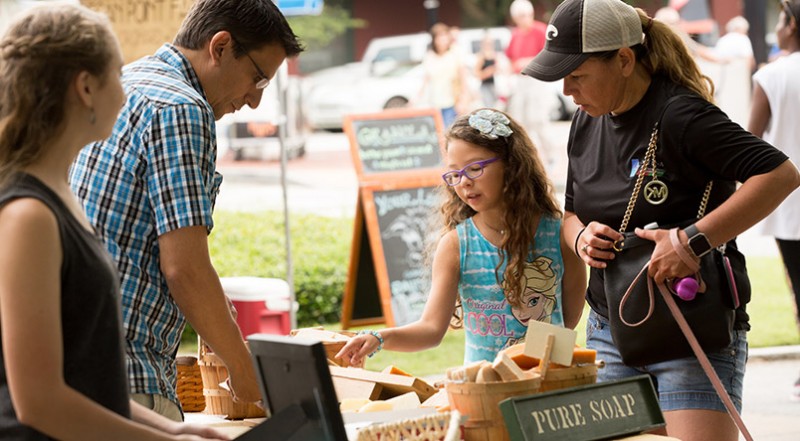 Every Saturday morning from March-November, Columbus holds a special event called Market Days. The event takes place on one of the main hot spots, Broadway – in an area fondly referred to as Uptown Columbus.
A local treasure, Market Days is worth waking up early to experience. Locals and visitors alike venture out to Broadway in the early morning, where they're greeted by over 200 vendors set up along the sidewalk selling more homemade goods than you can imagine! Organic produce, breads, salsas, soaps, décor, jewelry, dog treats, and more fill the tables in front of the proud, hard-working locals who arrive as early as 7 AM to start setting up shop.
Last Saturday when I arrived, it was nearly 10 AM, and I was in dire need of a freshly roasted cup of coffee from Iron Bank Coffee Shop. Broadway looked like it had the night before when I was out on the town – more like a big city buzzing with people and pets than a small, southern Georgia town. While I initially came just to get a cup of coffee and observe, I quickly recognized the quality of wares around me – some items I simply couldn't live without!
A red velvet cupcake, tacos, Georgia peaches, golden milk – these are the items I guiltlessly consumed, tapas-style, during the 2 hours ventured up and down Broadway. I also loaded up on items to bring home for future dishes and homemade treats for my dog. The vendors were so inviting, and the items they had grown, made or created themselves deserve nothing less than 5 stars. Make sure you come hungry – you'll regret it if you don't!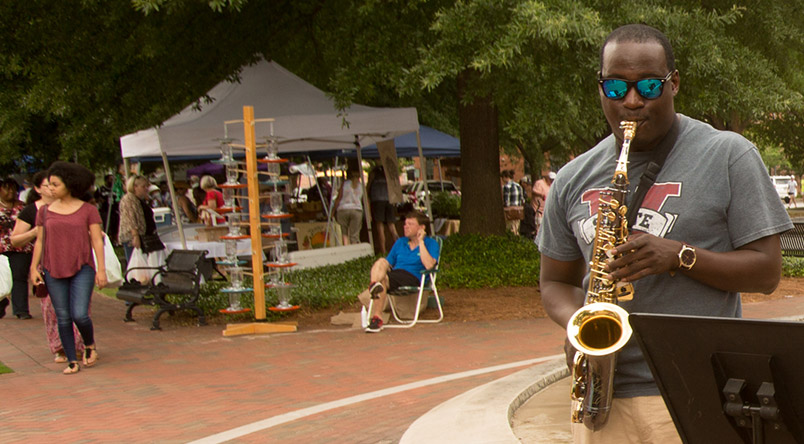 And with Market Days conveniently taking place along Uptown Columbus' main thoroughfare, people were popping in and out of the local boutiques and lunch spots that line the street – filling up on delicious food and coming away with more shopping bags than they could carry! And still others were just arriving with wet hair from one block west – having just rafted the whitewaters of the Hooch (or Chattahoochee River) that morning.
After I had my fill of local treats, I stopped for a free caricature drawing along the way. While being relatively still for my drawing, I witnessed a military serviceman from Ft. Benning doing 50 pushups for a $5 discount on a meal, and it was then that I realized how special the food here truly is. Columbus, GA – home of Fort Benning and host to spectacular events.
So, next time you're in Columbus, make sure you visit Market Days on Saturday morning to stock up on food and gifts for yourself, your family and your friends. Click to find out more about Market Days and book your stay!