Accreditations
Columbus was awarded accreditation from the Destination Marketing Accreditation Program (DMAP) in 2009. DMAP is an international accreditation program developed by the Washington, DC based Destination Marketing Association International (DMAI). In earning the DMAP accreditation, destination marketing organizations (DMOs) communicate to their community, buyers, and potential visitors that their DMO has attained a significant measure of excellence. This national certification recognizes that the organization provides outstanding services in accordance with the international standards and benchmarks in this field.
Visit Columbus, GA is responsible for marketing the assets of Columbus as a destination of choice to increase the benefits of tourism for the community—through trade shows, conventions, and leisure travel. In other words, as the official destination marketing organization for Columbus, they are responsible for "economic development through tourism."
Columbus is one of few Georgia CVBs or DMOs that have received DMAP accreditation and now ranks among the seventy DMOs in the U.S.to have been accredited. More about the DMAI.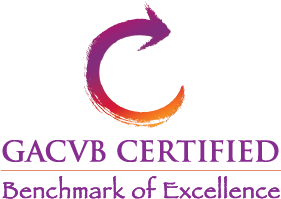 Columbus attained the Benchmark of Excellence by the Georgia Association of CVB's Destination Marketing Organization. After submitting to a review of the organization, the association of CVB's awarded the Columbus CVB with this certification. Having received this designation of excellence ensures that the CVB operations, practices, and procedures are in place, raising the standards of excellence in all areas of our organization by measuring them against a defined set of competencies which serve to increase the overall effectiveness of tourism to Columbus, GA. Obtaining this certification reassures the visitor that the CVB has attained and maintains some of the highest standards in the industry for the Columbus leisure traveler and meeting planners. More about the GACVB.