VisitColumbusGA Leads Community Efforts to Celebrate Travel and Tourism Industry
May 6, 2019
For Immediate Release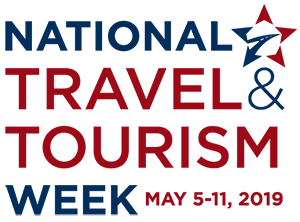 Contact: Peter Bowden
President & CEO
VisitColumbusGA
706.322.1613
pbowden@visitcolumbusga.com
VisitColumbusGA Leads Community Efforts to Celebrate Travel and Tourism Industry
Strong partnerships create success for unique and fun experiences
Columbus, GA 5.6.2019 — VisitColumbusGA is kicking-off a week-long recognition of Columbus, GA's travel and tourism community.
The 36th annual National Travel and Tourism Week (NTTW) (May 5-11) unites communities across the country to celebrate what travel means to jobs, economic growth and personal well-being.
"The numbers tell the story. Travel supports one in nine American jobs, including more than 4300 right here in Columbus," said Peter Bowden, President & CEO, VisitColumbusGA. "This week, we are celebrating what travel means to our community. We're calling on everyone—from elected officials to local residents—to join us in saluting this important industry.
The theme of this year's NTTW, "Travel Matters," is a recognition of the innumerable ways in which travel enriches lives and strengthens communities and highlights the travel industry's history of economic impact and its message of welcoming travelers.
Throughout Columbus, travel employs a diverse workforce, from hotel employees to restaurant, attraction and retail workers, and supports related sectors such as construction, manufacturing and finance. Some of the numbers:
4383 jobs are supported by travel and tourism in Columbus, with $124 million in estimated payroll
Travel and tourism generates more than $22 million in local sales and lodging tax revenue for the city
With 1.9 million visitors to Columbus last year, that resulted in a $352 million economic impact
This means a $540 tax savings per household in Columbus
Georgia Tourism, a division of The Georgia Department of Economic Development, recently announced that the state's tourism industry generated a record-breaking $66.2 billion in business sales impact in 2018, up 4.7 percent, according to the U.S. Travel Association and Tourism Economics.
Georgia's total tourism demand is 46 percent higher than its pre-recession level in 2008. In 2018, travel and tourism generated more than $3.4 billion in tax revenue in Georgia. In addition, every Georgia household would need to be taxed an additional $910 per year to replace the tourism taxes received as a result of the industry's tax contribution.
Besides benefiting the local economy, travel can also have a positive effect on personal well-being for residents and visitors of Columbus. Research studies have confirmed the positive health effects of travel and time off, from reducing the risk of heart disease to decreasing depression. Using time off to travel with family is good for everyone, especially our children—kids who travel with their families are more likely to attend college and earn more as adults.
# # #