RiverCenter Presents Squonk Opera: Cycle Sonic In Four Free Performances
Mar 7, 2019
For Immediate Release
March 7, 2019
CONTACT: Carrie Corbett
Director of Marketing
706-256-3608
RiverCenter Presents Squonk Opera: Cycle Sonic In Four Free Performances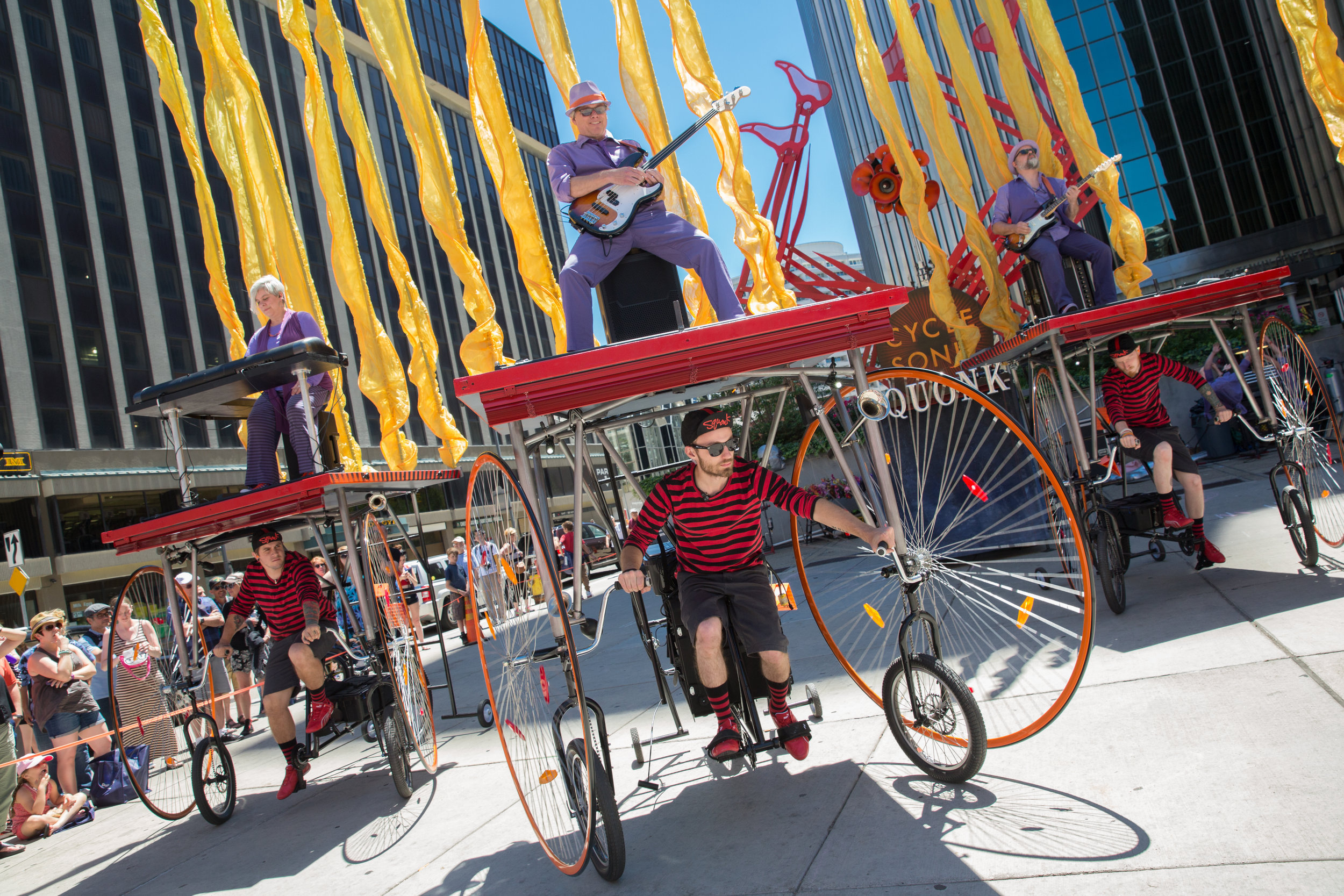 Columbus, Georgia – RiverCenter will present Squonk Opera: Cycle Sonic in four free performances as part of Columbus' annual Artbeat festivities. The outdoor performances will take place:
Thursday, April 4, 5:30 PM at the Columbus Public Library, 3000 Macon Road
Friday, April 5, 5:30 PM at RiverCenter's Illges Plaza on 10th and Broadway
Saturday, April 6 for two performances at 10 AM and noon, also at RiverCenter's Illges Plaza.
"These FREE, family-friendly events are outdoor concerts unlike anything you've ever seen before," said RiverCenter Executive Director Norman Easterbrook. "They are a performance in motion with double-decker, decorated stages that are propelled through the streets with bicycles."

Sprouting bulb horns and whirligigs, whistles and bells, musicians perform their original chamber rock music on the decorated platforms festooned with giant animated bikers, undulating flags and 20-foot legs pumping with the rhythm of sustainable power. With no carbon footprint, Cycle Sonic combines the thrill of a live concert with the world of everyday transit.

"Squonk Opera is a delightfully frivolous and engaging performing company," said Easterbrook. "Their productions all take place outdoors and are full-on celebrations peppered with a bit of mystery and mayhem. Audiences will be thrilled with what they experience and will be left with the question "How did they do that?"
Not to worry, because each of the thirty- minute performances are followed by a "backstage tour" to show the audience the mechanics and construction of the larger-than-life sets and props used in the performance. "RiverCenter is proud to sponsor Squonk Opera as our community engages in Artbeat, joining with our companion arts organizations in celebrating the richness of the Columbus cultural arts community," said Easterbrook.
Performances of Squonk Opera: Cycle Sonic are sponsored by Liberty Utilities. The 2018-19 RiverCenter Season is sponsored by Aflac.
For additional information about these FREE! performances, contact the RiverCenter box office, 900 Broadway, Monday-Friday between the hours of 10 a.m. – 5:30 p.m., by phone at (706) 256-3612, and online at rivercenter.org.
Attached: Photo: Squonk Opera: Cycle Sonic
Video Link: https://youtu.be/GDI49-iixu8
###
RiverCenter is the region's premier performing arts destination. An independent nonprofit arts organization, RiverCenter proudly serves the Chattahoochee Valley. For more information about RiverCenter performances, please contact Carrie Corbett at ccorbett@rivercenter.org.