RiverCenter Presents Moscow Festival Ballet's Cinderella
Feb 7, 2018
FOR IMMEDIATE RELEASE
February 7, 2018
CONTACT: Carrie Corbett,
Director of Marketing
RiverCenter
P.O. Box 2425
Columbus, GA 31902
706-256-3608
RiverCenter Presents Moscow Festival Ballet's Cinderella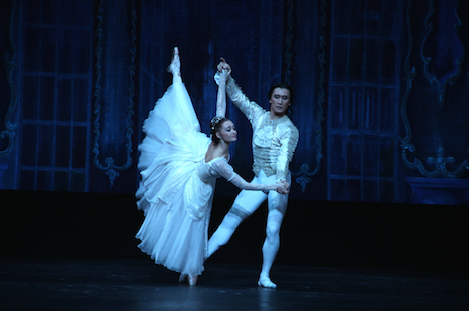 Columbus, GA—RiverCenter presents the Moscow Festival Ballet's Cinderella on Saturday, March 3 at 7:30 p.m.
Founded in 1989, the Moscow Festival Ballet is the vision of director Sergei Radchenko, legendary principal dancer of the Bolshoi Ballet. Radchenko graduated from the Moscow School of Dance in 1964 and joined the Bolshoi where, over a career of 25 years, he danced the entire repertoire. He enjoyed a special reputation for Spanish dance, particularly the role of the bullfighter in the Bizet-Schedrin Carmen Suite. Radchenko envisioned a company that would bring together the highest classical elements of the great Bolshoi and Kirov traditions. His direction has forged leading dancers from across Russia in his new productions of timeless classics, such as Giselle, Don Quixote, Paquita and Carmen, performed in extensive tours across the United States, Europe and Asia.
"Cinderella is a classic story rendered for the stage in the most classic and graceful of art forms," said RiverCenter Executive Director Norman Easterbrook. "The Moscow Festival Ballet is a favorite of audiences around the country and RiverCenter is proud to bring this performance to our community. An added benefit for this performance is that the universal story of Cinderella is known by all which makes the ballet very easy to follow. In many ways, this performance will have elements that will appeal to first time ballet audiences and to younger audiences."
Prior to the performance, Karyn Tomczak, the Vicki Jiles Flanagan Distinguished Chair in Dance at Columbus State University, and members of the CSU dance program will present a talk and demonstration about Cinderella. The talk will be held in the Studio Theater at 6:30 p.m.
The Moscow Festival Ballet's performance of Cinderella is part of the Synovus Center Stage series. Tickets for Moscow Festival Ballet's Cinderella are on sale now and can be purchased at RiverCenter's box office Monday-Friday from 10 a.m.-5:30 p.m., by phone at 706-256-3612, and online at www.rivercenter.org.
RiverCenter Inc. is your independent nonprofit arts organization proudly serving the Chattahoochee Valley. For more information about RiverCenter performances, please contact Carrie Corbett at ccorbett@rivercenter.org.
###