RiverCenter Announces Preview Performances of Macbeth and The Great Gatsby
Aug 13, 2021
For Immediate Release
August 13, 2021
CONTACT
Carrie Corbett, Director of Marketing
706-256-3612/901-230-6398
RiverCenter Announces Preview Performances of Macbeth and The Great Gatsby
Columbus, Georgia – Two classic dramas by the Aquila Theatre Company join the RiverCenter season. As part of a two-week residency, the company will present preview performances of Shakespeare's Macbeth on January 11 at 10:00 a.m. and a new adaptation of F. Scott Fitzgerald's The Great Gatsby on January 15 at 7:30 p.m.
Aquila is now one of the foremost producers of classical theater in the United States visiting 50 - 60 American cities per year with a program of two plays, workshops and educational programming and, since 2012, is under the Artistic Directorship of Desiree Sanchez.
The company has been awarded numerous grants from the National Endowment for the Arts, The National
Endowment for the Humanities, from which it received a Chairman's Special Award, the New York State Councils for the Arts and Humanities, and the New York City Department of Cultural Affairs. Aquila has performed at the White House under the Bush and Obama administrations and has performed for the U.S Supreme Court and for the National Council on the Arts. Aquila was also recently invited by Lin-Manuel Miranda to perform at the U.S. Capitol in support of the National Endowment for the Humanities, for its groundbreaking theatre and humanities program: The Warrior Chorus.
Macbeth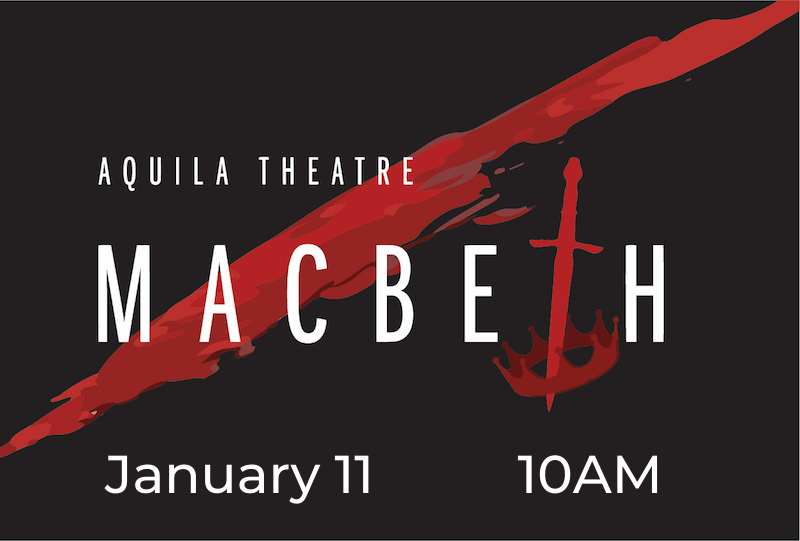 On a deserted moor shrouded in mist, a warrior returning from the battlefield is met by three old women who deliver a chilling prophecy – that one day he will be crowned King of all Scotland. So begins one of Shakespeare's most exciting plays, The Tragedy of Macbeth – a thrilling tale of ruthless ambition, deadly deceptions, intense paranoia, and ultimately, insanity. This is a world where "fair is foul, and foul is fair."
After Macbeth receives the prophecy, he is given a new title by a grateful King Duncan. This sends both Macbeth and his wife into a frenzied lust for power that results in the brutal murder of the King. As the Macbeths try to consolidate their power, they are besieged by paranoid visions, terrifying phantoms, and the unraveling of their minds.
The Great Gatsby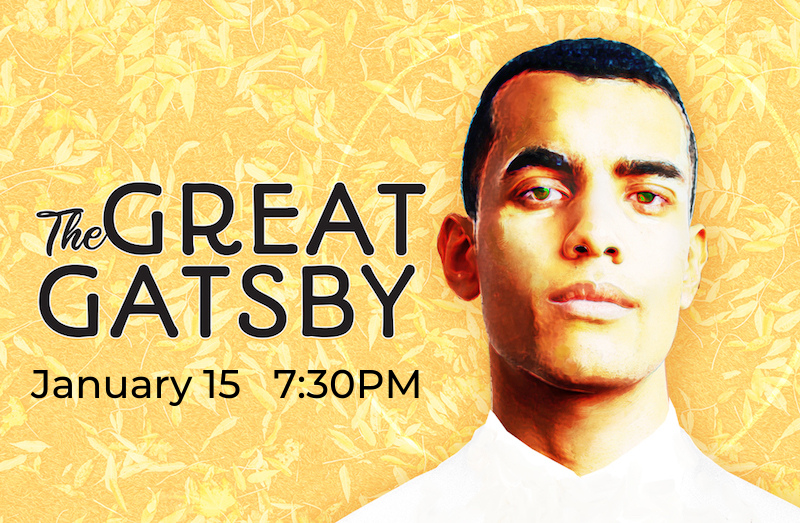 The Great Gatsby, written in 1924 is a deeply moving and honest portrayal of class, racism, and prejudice in American society. In what was originally titled, Under the Red White and Blue, F. Scott Fitzgerald painted a vivid picture of how the quest for the American dream in the absence of true equality can lead to devastating effects.
This timely story reveals a culture where success seems to be defined only by wealth, obsession masquerades as love, and prejudice is used as a weapon to bolster one's fragile sense of self. The story centers around a "self-made" Jay Gatsby, a man from a working-class background, who had previously fallen in love with wealthy heiress, Daisy Buchanan. After returning from his military service, he finds that Daisy had married blue-blood, Tom Buchanan. Gatsby, determined to win her back, does whatever it takes to reinvent himself into the man he thinks Daisy will want.
Tickets for these performances go on sale to the public August 16 at 10 a.m. at the River Center box office, 900 Broadway. Hours are Monday through Friday, 10 a.m.-5:30 p.m. Tickets are also available by phone at (706) 256-3612 and The Great Gatsby tickets will be available online at rivercenter.org.
Photos: Artwork, The Great Gatsby and Macbeth
###
RiverCenter is the region's premier performing arts destination. An independent nonprofit arts organization, RiverCenter proudly serves the Chattahoochee Valley. For more information about RiverCenter performances, please contact Carrie Corbett at ccorbett@rivercenter.org.