RiverCenter Announces 2022-23 Season
Jun 27, 2022
JUNE 27, 2022
For Immediate Release
CONTACT: Carrie Corbett
Director of Marketing
706-256-3608/901-230-6398 Cell
RiverCenter Announces 2022-23 Season
RiverCenter celebrates 20 years of presenting world-class artists and nationally touring Broadway shows as it announces its 2022-23 Season.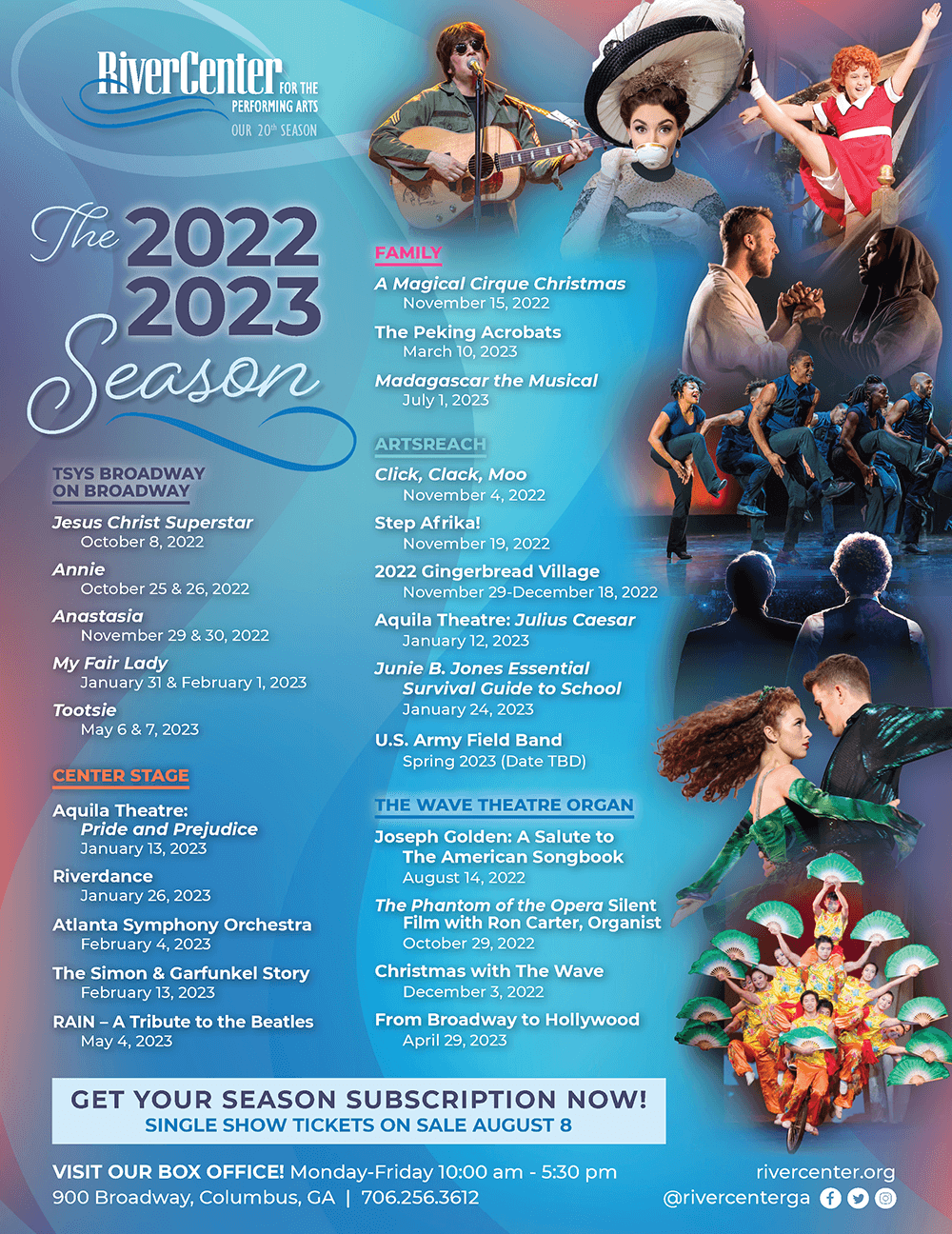 The season features a new Family Series with shows to delight audiences of all ages, including A Magical Cirque Christmas on November 15, The Peking Acrobats on March 10, and Madagascar the Musical with two performances on July 1 at 2:30 and 6:30 p.m. RiverCenter's new theatre organ, "The Wave," will also take center stage this year with four performances. Joseph Golden opens the season on August 14 with A Salute to The American Songbook, while a spooky Halloween treat awaits on October 29 as organist Ron Carter adds the live organ soundtrack to the 1925 silent film, The Phantom of the Opera. A trio of organists will brighten the holiday season at the December 3 Christmas with The Wave holiday open house featuring the return of the annual Gingerbread Village, and a final concert on August 29, From Broadway to Hollywood, will feature Broadway classics and an assortment of amazing songs from the great Hollywood musicals of yesteryear.
The Broadway Series kicks off with a brand, new production of Jesus Christ Superstar on October 8. The cast, crew and producers will be on site for approximately two weeks for this tour start-up, as they conduct their technical rehearsals and launch the new tour from the RiverCenter stage. On October 25 & 26 the beloved musical, Annie, returns to RiverCenter with a new troupe of adorable orphans, dog Sandy, Daddy Warbucks, Miss Hannigan, and a charming cast of characters to bring this musical to a new generation. Anastasia, on November 29 and 30 kicks off the holiday season in a magical way. Inspired by the beloved film, this romantic and adventure-filled musical transports audiences from the twilight of the Russian Empire to 1920's Paris, as a brave young woman sets out to discover the mystery of her past. The gorgeous Lincoln Center Theater production of My Fair Lady arrives on January 31 & February 1. Considered by many to be the perfect musical of all time and boasting such classic songs as "I Could Have Danced All Night," "The Rain in Spain," and "On the Street Where You Live," the New York Times proclaimed this production to be "thrilling, glorious and better than it ever was." The Broadway Series concludes with the show The Hollywood Reporter called "the most uproarious new musical in years," —Tootsie. This laugh-out-loud comedy with a Tony-winning book and clever score was a New York Times Critic's Pick.
A variety of performances come together for Center Stage, with Irish dance, classic pop music, a literary drama, and a night of orchestral transcendence. New York's Aquila Theatre returns to RiverCenter in January, another of three tour start-ups during the season. Spend an evening in the British countryside with the Bennet sisters in a new staging of Jane Austen's classic literary tale, Pride and Prejudice. Also in January, Riverdance returns to RiverCenter to celebrate its 25th anniversary with their most spectacular performance of Irish dance and music to date. An exciting night of classical music by Prokofiev and Shostakovich awaits as RiverCenter partners with CSU's Schwob School of Music to bring the Atlanta Symphony Orchestra, with new Musical Director Nathalie Stutzmann to the stage. You can make plans with your valentine for The Simon & Garfunkel Story, a concert experience featuring all the duos most famous hits, and, finally, get back to where you once belonged with Rain: A Tribute to the Beatles, featuring early hits, music from Sgt. Pepper's Lonely Hearts Club Band, Abbey Road, and The Rooftop Concert.
The ArtsReach Series features an exciting night of dance with Step Afrika!, the first professional company dedicated to the art of stepping, two school-time matinees for children – Click, Clack, Moo and Junie B.'s Essential Survival Guide for School, a free concert by the United States Army Field Band and Soldiers' Chorus in the spring and Aquila Theatre's matinee of Julius Caesar.
"All of us at RiverCenter are as pleased as can be with this coming season," said RiverCenter Executive Director Norman Easterbrook. "Despite some nearly insurmountable challenges of the past couple years, RiverCenter is back in the business of bringing world class, professional entertainment to the region. We are especially proud that we will be originating three national touring productions right here in Columbus – the national tours of Jesus Christ Superstar, A Magical Cirque Christmas, and the outstanding Aquila Theatre education tour. These projects not only give area residents the opportunity to see the very first public performance of a fresh and new national tour, but also will have a significant impact on our local economy. We look forward to welcoming everyone to our gingerbread houses, performances with The Wave and a host of other events that are certain to entertain, excite and inform our audiences."
Several season subscription options, featuring savings up to 30% off single ticket prices, are now on sale, with single tickets on sale August. 8. For information on subscription discounts and packages, visit the RiverCenter website at rivercenter.org/season-subscriptions/ or contact the box office at 706-256-3612 Monday through Friday, 10AM-5:30 PM.
RiverCenter 2022-23 Season
A Salute to The American Song Book, Joseph Golden & The Wave August 14
Jesus Christ Superstar October 8
Annie October 25 & 26
The Phantom of the Opera Silent Film, Ron Carter & The Wave October 29
Click, Clack, Moo November 4
A Magical Cirque Christmas November 15
Step Afrika! November 19
Anastasia November 29 & 30
Gingerbread Village November 29-December 18
Christmas With The Wave Holiday Open House December 3
Aquila Theatre: Julius Caesar January 12
Aquila Theatre: Pride and Prejudice January 13
Junie B's Essential Survival Guide to School January 24
Riverdance January 26
My Fair Lady January 30 & February 1
Atlanta Symphony Orchestra February 4
The Simon and Garfunkel Story February 13
The Peking Acrobats March 10
RAIN: A Tribute to the Beatles May 4
Tootsie May 6 & 7
From Broadway to Hollywood with The Wave April 29
Madagascar the Musical July 1
RiverCenter is the region's premier performing arts destination. An independent nonprofit arts organization, RiverCenter proudly serves the Chattahoochee Valley. For more information about RiverCenter performances, please contact Carrie Corbett at ccorbett@rivercenter.org.
###