Miss Georgia Organization is Looking to the Future with Two Major Announcements
Jun 29, 2020
FOR IMMEDIATE RELEASE
Miss Georgia Organization is Looking to the Future with Two Major Announcements
2021 Date and New "Miss Georgia Gives Back" Campaign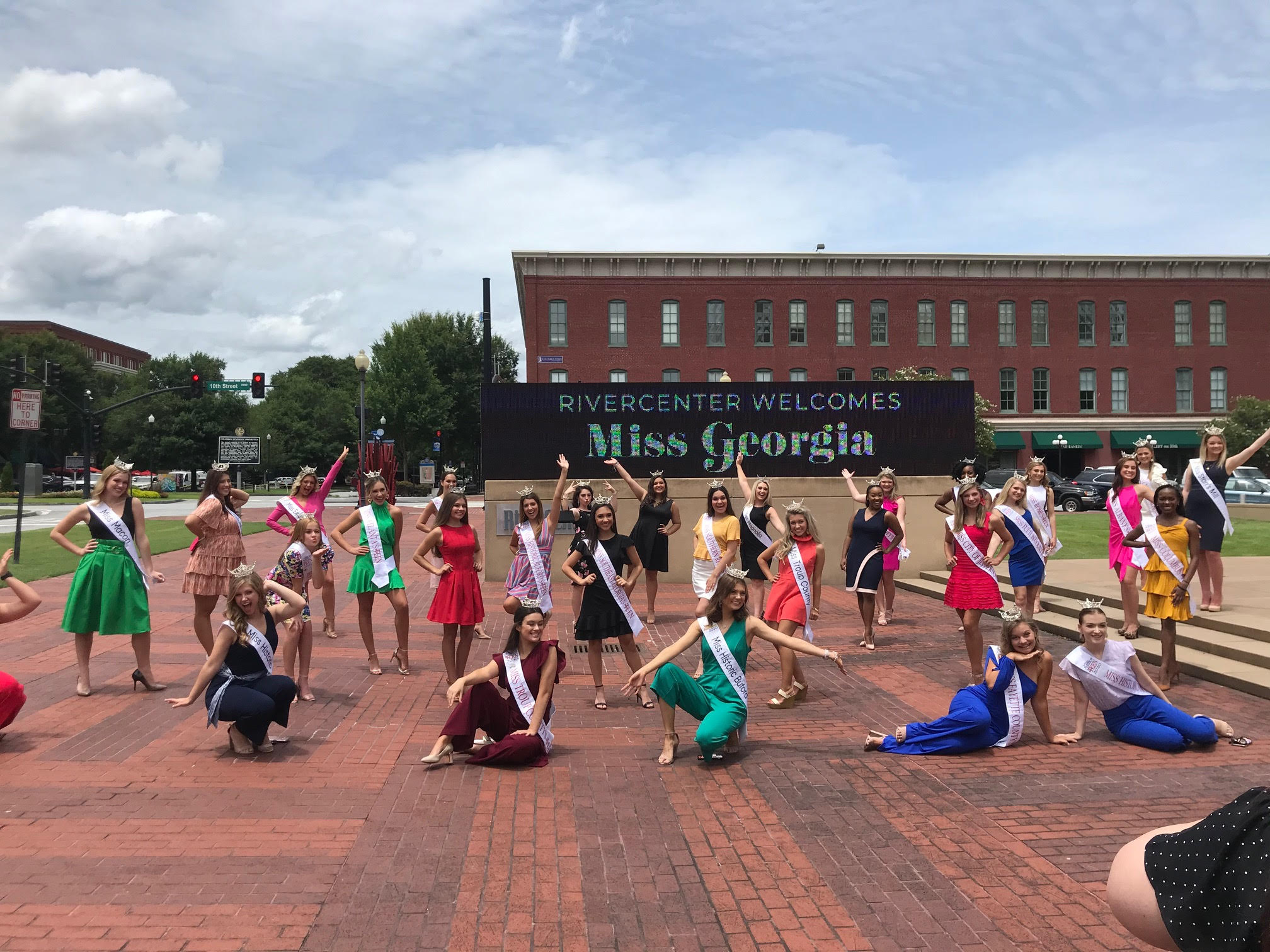 COLUMBUS, GA (JUNE 27, 2020) – At a press conference on Wednesday, June 24, the Miss Georgia Organization made two major announcements looking to the future.
Donning masks, members of the Miss Georgia Board, Columbus Mayor Skip Henderson, and more than 25 local titleholders from across the state, gathered inside the RiverCenter for the Performing Arts, which serves as host to the event.
Hayley Tillery, former local titleholder, welcomed the group and announced that the next Miss Georgia Competition will take place June 14 - 19, 2021. Attendees looked on as MGSC Executive Director Trina Pruitt and RiverCenter Executive Director Norm Easterbrook each signed the contracts in duplicate locking in the 2021 date and location.
With the reigning Miss Georgia Outstanding Teen, Mary Wilhelmina Hodges, standing by her side, Pruitt shared the second major announcement of the day, "For the past 75 years, the City of Columbus has welcomed the Miss Georgia Scholarship Competition. Our sincere appreciation is extended to Mayor Skip Henderson and all past mayors with whom we have worked, as well as to other government, community, and business leaders whose support has been immeasurable and incessant. To show our appreciation to the City of Columbus and our many sponsors, today we launched the 'Miss Georgia Gives Back' campaign."
Sponsors include businesses such as Kia AutoSport Columbus, Lasting Impressions Formal Wear, Aflac, RiverCenter for the Performing Arts, Columbus State University, and many others as well as community members that have contributed thousands of dollars in scholarships and sponsorships. Pruitt stated, "This support has been a source of light to assist us with illuminating the ideals of our organization. In their giving, these supporters truly have embodied our four points of the Miss America crown…success, scholarship, service, and style."
"As a way to demonstrate our appreciation, the Board of Directors of the Miss Georgia Scholarship Competition, Inc. unanimously agreed, with the help of 60 titleholders, to place the spotlight back on local sponsors here in Columbus. Mary Wilhelmina and our other young ladies will spend the next year giving back by visiting our current and potential sponsors to dine, shop, and promote these businesses and individuals who give so much to our organization. Simultaneously, these activities also provide the titleholders with real life experiences, opportunities, and connections contributing to both their academic and professional futures. I am proud to share that earlier today, Mary Wilhelmina and more than 20 of our local titleholders showed their appreciation to two of our sponsors, both the Chick-fil-A Bradley Park Drive and Chick-fil-A Whittlesey Boulevard."
While there are normally fees for appearances of titleholders, as part of the "Miss Georgia Gives Back" campaign, appearances at appropriate special events or other occasions will be complimentary. If an organization is interested in hosting such an appearance, please contact email missgacompetition@gmail.com.
Due to the nationwide impact of COVID-19, the Miss Georgia Scholarship Organization announced in June that the Miss Georgia Competition, scheduled for the week of June 20, 2020, was being postponed until June 2021. This was after the June 3, 2020, announcement that the 2020 Miss America Competition has been postponed until the fourth quarter of 2021.
As available, updated information will be shared via www.missgeorgia.net.
###
For media inquiries, please contact:
For general Inquiries for MGSC: Billy Kendall, 706-366-0480
For inquiries for the CEO/Executive Director: Rachel Crumbley, 762-441-0155, rmcrumbley@gmail.com