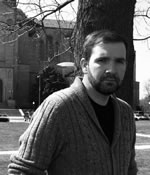 Georgia Poetry Circuit - A Reading by Ryan Wilson
Please join us for a reading by featured poet Ryan Wilson on Friday, November 8, at 7:30PM in Arnold Hall Room 113 on Columbus State University's Main Campus. This event is free and open to the public!
Ryan Wilson was born in Griffin, GA, in 1982, and raised in nearby Macon. He is the author of The Stranger World (Measure Press, 2017), winner of the Donald Justice Poetry Prize, and he is the Editor-in-Chief of Literary Matters (www.literarymatters.org). His work appears widely in periodicals such as Best American Poetry, Five Points, The Hopkins Review, The New Criterion, The Sewanee Review, and The Yale Review. He also regularly publishes critical prose, for which he has won the Jacques Maritain Prize, the Eleanor Clark Award, and The Sewanee Review's Walter Sullivan Prize. Currently, he is the Office Administrator and C.F.O. of The Association of Literary Scholars, Critics, and Writers (ALSCW), and he teaches at The Catholic University of America. He and his wife live north of Baltimore.
Location: Columbus State University Main Campus, Arnold Hall Room 113, 4225 University Ave, Columbus, GA 31907