All Out Inspired
Get the latest on events, ideas and ways to go all out in Columbus, Georgia!
Viewing experiences for Festivals

Event
October 16, 2017
We've been saying it, but now it's time to experience it! October and November weekends in Columbus along the Chattahoochee are the best time of year to "go all out" and experience the beauty and glory of Fall in the South, with cooler days and nights, changing colors, and festivities every weekend! Fall in Columbus means you can combine the outdoor activities that summer provides, like whitewater rafting in the Chattahoochee, biking, hiking, and Uptown walks, with the outdoor festivals that are our speciality! Check out the festivals and special events over the next few weeks: Arts on the River, Saturday, October 21, 2017 At 11:00Am - 5:00pm "Arts on the River is in its 22nd year, a fine arts only show and sale with artists from throughout the south east. Located in the median of the 1100 block of Broadway, Columbus, GA, a $1200 Best in Show award is presented to the winning artist. A qualified judge from out of town determines the recipient of all awards. The show opens at 11 am and closes at 5 pm. Details on web site www.artsontheriver.com. Entertainment all day. This event is free to the public, no ticket required." The National Infantry Museum's new National Memorial to the Global War on Terrorism will be dedicated Monday, October 16, 2017, at 11 a.m. The memorial will be open to the public at the dedication and thereafter. "The memorial, now under construction, will include eight granite panels etched with the names of nearly 7,000 Soldiers, Sailors, Airmen and Marines who have died in service since 9/11. A 13-foot steel beam taken from the wreckage of the World Trade Center and donated to the museum by New York City firefighters will sit atop concrete columns representing the Twin Towers. The memorial also will feature nine bronze figures representing an Infantry squad, illustrations of each service's role in protecting our nation, and narrative panels chronicling the nation's longest war." These are just a few of the new events and attractions opening in Columbus during the Fall. We haven't even talked about the plays, shows, live music, and great restaurants! Come visit us!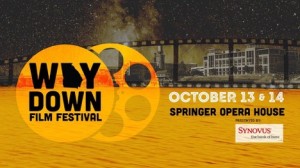 Event
September 12, 2017
Seen a good movie lately? Normally, a trip to the movies requires you to battle crowds, pay expensive ticket and concession prices, and spend an hour and a half to two hours watching a movie that you aren't totally sure will be a good one. Of course, you love movies and stories and a night out and it seems like a good thing to do. But, have you been to a film festival before? With one short film after another made by aspiring directors, writers, and editors trying to tell a better story than you might see in Hollywood? Columbus invites you for a weekend of filmmaking at its best with the Way Down Film Festival at the Springer Opera House, October 13-14. The Way Down Film Festival will consist of over 40 short films and 10 events throughout the weekend. A description: Way Down Film Festival launched in 2016 as the first high-profile film festival in Columbus, GA. The inaugural WDFF showcased over 30 short films and celebrated the most innovative voices in narrative, animation, documentary, and experimental categories from all over the world. Curated into 6 different thematic genre blocks, each screening runs for 70-90 minutes and consists of varying short films. Viewed on a state-of-the-art projector and sound system, film screenings take place on The Main Stage of the gorgeous, historic Springer Opera House. Following each screening, there is a filmmaker Q&A. Select filmmakers and celebrity/industry judges are also in attendance. Peppered throughout the two-day festival are rocking, celebratory receptions and networking gatherings. Don't miss this! Make plans and reservations now and head to the movies at the Way Down Film Festival, October 13-14 in Columbus! Contact HERE for additional information.