Theatrical Works Live Presents:The Carnival Live!
Mar 1, 2018
FOR IMMEDIATE RELEASE
February 28, 2018
CONTACT: Artina McKnight
803.743.8462
Theatrical Works Live Presents:The Carnival Live!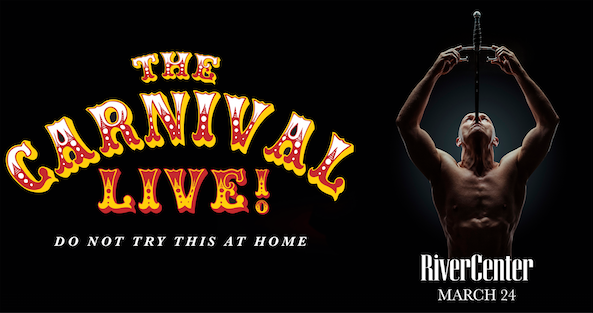 Columbus, GA—Theatrical Works Live presents The Carnival Live! Saturday, March 24, 2018 at 8 p.m. in the River Center's Bill Heard Theatre located at 900 Broadway.
Even the most adventurous among us wouldn't dare attempt the amazing acts you'll see in The Carnival Live! In the words of Ashton Kutcher about Alex Magala, "Definitely do not try this at home."
The Carnival Live! is being presented by Super Charged natural energizing sports drink. The Columbus-based performance natural beverage company is excited to align a super show with their super drink. The show is hosted by Captain & Maybelle, America's favorite sideshow couple. "The Carnival Live! brings together mind-blowing stunts, jaw-dropping sights, and thrills you have to see to believe," said David Moore, a representative for Super Charged.
The Carnival Live! features a renowned sword swallower, a crossbow phenom, a balancing act, a comic magician/illusionist, and more. Some members of this bizarre ensemble have been seen on America's Got Talent and can also be found in the pages of Ripley's Believe It or Not and The Guinness Book of World Records.
Tickets for The Carnival Live! are $40-$50 and are on sale now at RiverCenter's box office Monday-Friday from 10 a.m.-5:30 p.m., by phone at 706-256-3612 or via the Tickets.com hotline at 888-332-5200, and online at www.rivercenter.org
###