RiverCenter Announces 2019-20 Season
May 15, 2019
FOR IMMEDIATE RELEASE
CONTACT: Carrie Corbett
Director of Marketing
706-256-3608/901-230-6398 Cell
RiverCenter Announces 2019-20 Season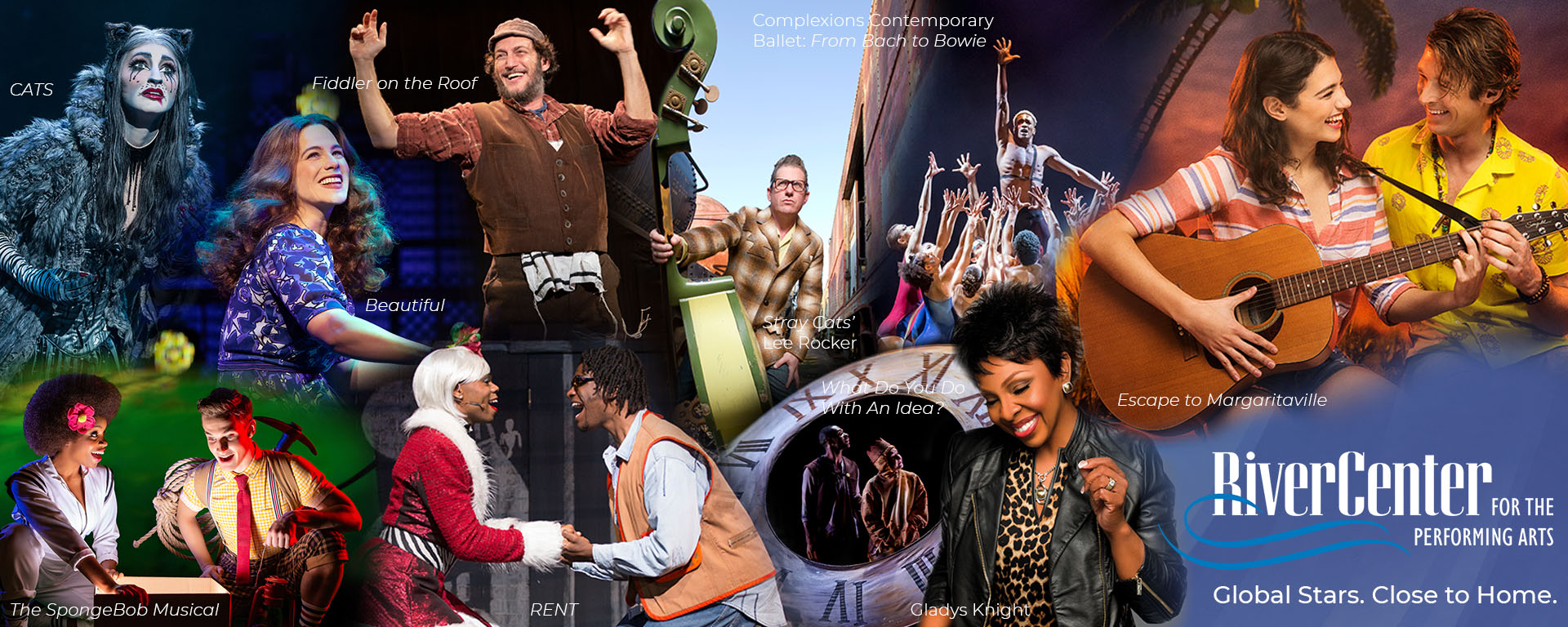 Columbus, GA-5.15.2019: RiverCenter's 2019-20 Season was announced last night at a special performance at RiverCenter for the Performing Arts. Highlights of the new season include a November 8 performance by Gladys Knight, the return of the spectacular dance troupe Pilobolus in Shadowland II: The New Adventure, and a second national tour launch in as many years with the cast and crew of the 10th Anniversary Tour of RENT.
In addition to RENT, the TSYS Broadway on Broadway Series includes new national tours of audience favorites Fiddler on the Roof and CATS as well as Broadway titles new to the RiverCenter stage: the Carol King musical Beautiful, a night of family fun with SpongeBob The Musical, and a show still currently running on Broadway, Waitress, with music by Sara Bareilles.
RENT 10th Anniversary Tour – August 3 (National Tour Launch)
Fiddler on the Roof - October 23 & 24
Beautiful - December 4 & 5
CATS - February 11 & 12
The SpongeBob Musical – May 7 & 8
Waitress - June 23 & 24
The performance of RENT is part of a two-week tech period for the new national tour. "This is an exciting thing for Columbus and the second time that we have housed the launch of a national tour," said Executive Director Norman Easterbrook. "For two weeks, Columbus will be home to the cast, crew, directors and
musicians of a new national tour as they rehearse and prepare the show to go on the road. We are proud to be the only theatre in the state to be involved in the launching of a national tour, and hope that many more tours will originate from the RiverCenter stage. This project will have a very real, positive impact on the local community through the services they purchase which include transportation, catering, hotel rooms, payroll
expenditures, materials and supplies that will be purchased to prepare the company for the tour."
The Synovus Center Stage Series kicks off in style with a performance by the Empress of Soul, Gladys Knight, and welcomes world class artists such as The Stray Cats' bassist Lee Rocker, Complexions Contemporary Ballet performing to works by Bach and David Bowie, a nostalgic evening with beloved Doo Wop groups The Coasters, The Drifters and The Platters, a night of Jimmy Buffet music with Escape to Margaritaville, and the breathtaking Pilobolus Shadowland II: The New Adventure.
Gladys Knight - November 8
Pilobolus Shadowland II: The New Adventure – November 19
Cantus Christmas 2019 – December 17
Stray Cats' Lee Rocker – January 16
Escape to Margaritaville – March 19
Atlanta Symphony Orchestra – April 2
Complexions Contemporary Ballet: Bach to Bowie – April 16
The Coasters, Drifters, Platters – May 1
Cantus Columbus: The American Songbook-Gems by Kern, Berlin and Rodgers & Hart – May 16
The new ArtsReach Series brings two FREE performances by military bands: Ft. Benning's annual MCoE Holiday Concert on December 7 and the U.S. Navy Concert Band, Sea Chanters and Cruisers on March 12. Additionally, there are a range of program options for RiverCenter's youngest patrons, from school matinees, two of which will offer public performances for families, to RiverCenter on the Road learning experiences that travel to the classrooms.
MCoE Band Holiday Concert – December 7
U.S. Navy Bands - Concert Band, Sea Chanters and Cruisers – March 12
Mayhem Poets – School matinees November 1
Dog Man the Musical – School matinees November 4 & 5
The Snowy Day – School matinees December 19 & 20
The Pout-Pout Fish – School matinees January 3 & 31, public performance February 1
Sweet Chariot – School matinees February 3
What Do You Do with an Idea? – School matinees May 14 & 15, public performance May 16
RiverCenter on the Road, sponsored by WestRock, is a series of learning experiences that travel to the schools. This year, ROTR will bring three programs:
STEAM Museum - September 3-13
Tom Johnson's Young Author's Day - October 7-19
Ron Anglin's F.I.G. Newton – September 23-27 and February 10-14
"We are thrilled to present such exciting and varied performances in our 2019-20 Season," said Easterbrook. "RiverCenter continues a seventeen-year tradition of bringing truly professional performing arts to the community while we expand our programming to serve more who live in and visit our region. It is notable that we are beginning to see Equity tours in Columbus. This means that there is a level of professionalism, investment and design work in the tours that up to this season could only be seen in major markets like Chicago, Detroit or Atlanta. The joint concert of the Navy Band, Sea Chanters and the Cruisers is offered free of charge to our community. It is rare that these ensembles appear on the same tour and they come to RiverCenter because of our ability to support such large tours. The Navy tour together with the national tour launch of RENT is testimony to the excellence of our staff and facility. As RiverCenter grows and expands our programming, we contribute to the quality of life and economic development goals of our region in very significant ways. From education programs that enlighten and engage, to Broadway tours that thrill and inspire, to residency activities and new experiences that help our community to tell its story, there truly is something here for everyone."
RiverCenter is the region's premier performing arts destination. An independent nonprofit arts organization, RiverCenter proudly serves the Chattahoochee Valley. For more information about RiverCenter performances, please contact Carrie Corbett at ccorbett@rivercenter.org.
###