I Will Wait Pre-Performance Reading at the NIM
Mar 20, 2019
FOR IMMEDIATE RELEASE
March 20, 2019
Contact: Cyndy Cerbin
Director of Communications
706-653-9234
ccerbin@nationalinfantryfoundation.org
I Will Wait Pre-Performance Reading at the NIM
Military Spouses share challenges in dramatic presentation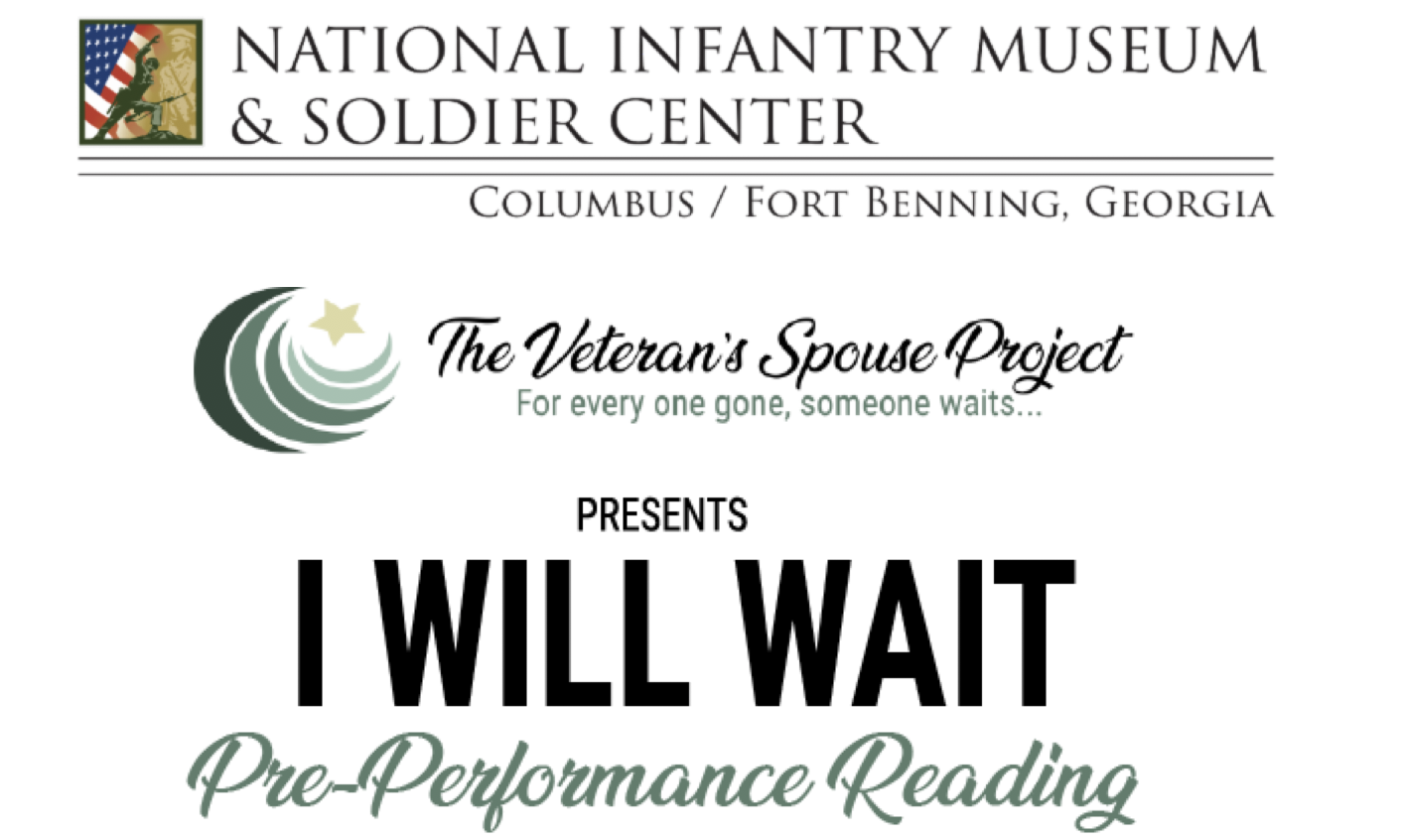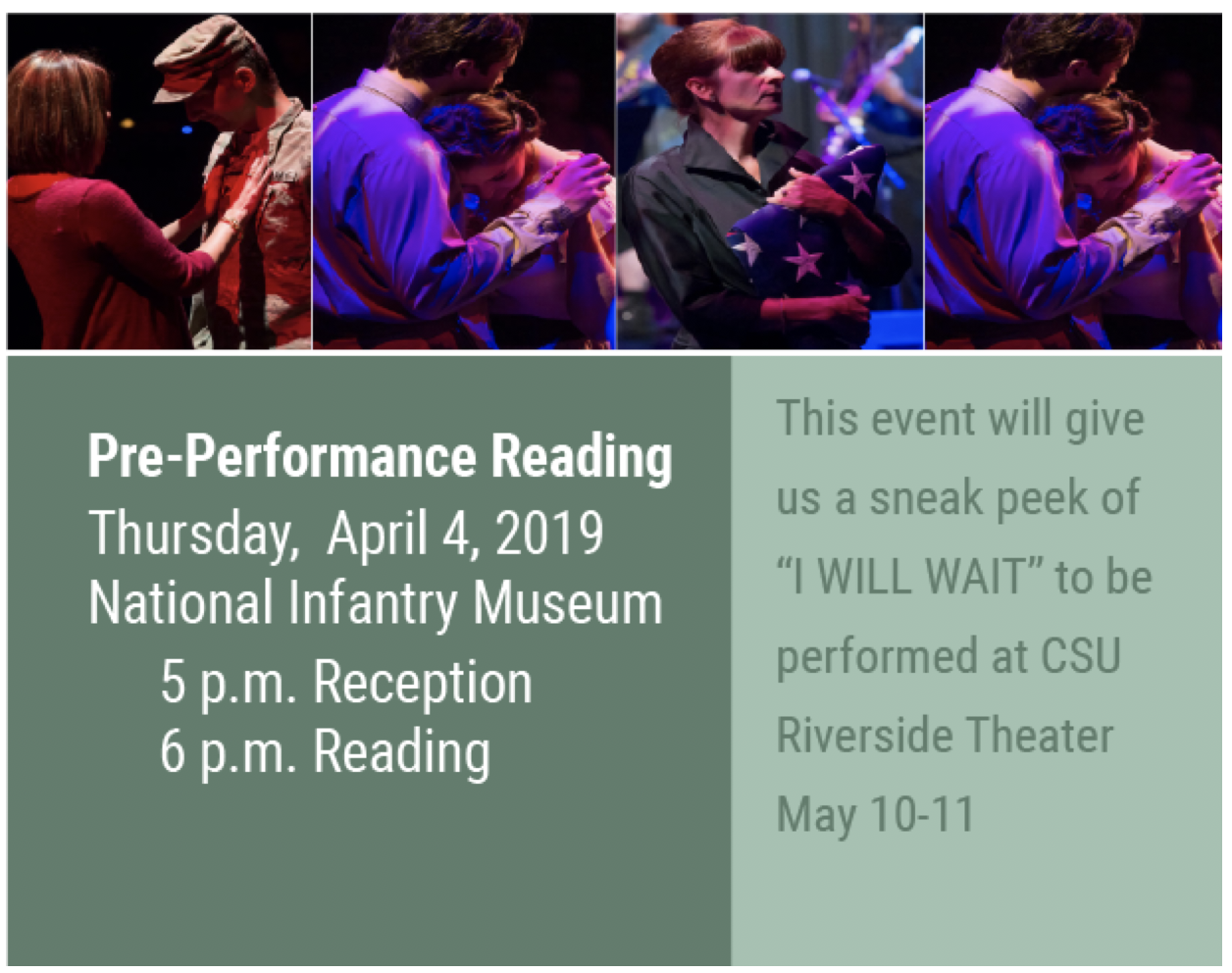 Columbus, Georgia – March 20, 2019: Members of the Veteran's Spouse Project will present a reading of I Will Wait at the National Infantry Museum on Thursday, April 4,2019.I Will Wait is an original play that illustrates the challenges military spouses face when a loved one is deployed. This reading is a preview event to full performances of the play at Columbus State University's Riverside Theatre May 10 and 11.
The Veteran's Spouse Project (VSP) is a non-profit organization made up of I Will Wait, a touring performance art piece, and Made for You, an accompanying expressive arts workshop. VSP exists to help bridge the civilian and military gaps within our communities by deepening the understanding of what military families endure through deployment and separation.
I Will Wait begins in 1945 at the end of World War II and travels through "forgotten" Korea, the volatile Vietnam war, Desert Storm and ends with spouses caught in the current cycle of war and deployment. With five original songs, I Will Wait uses music, drama and dance to look behind the gates of the emotional toll of sending loved ones to war.
The public is invited to a free preview event at the National Infantry Museum Thursday, April 4. A light reception will begin at 5 p.m. and the reading will begin at 6 p.m.
The Veteran's Spouse Project has teamed up with the Georgia Repertory Theatre and CSU to present four full showings of I Will Wait May 10 and 11 at the CSU Riverside Theatre complex. Tickets can be purchased at the museum event on April 4, or online at www.iwillwaitvsp.com.
If you would like to interview Veteran's Spouse Project Founder and Artistic Director Amy Uptgraft, or invite her for a guest segment on one of your programs, please contact Cyndy Cerbin at the National Infantry Museum, 706-653-9234.
###

TheNational Infantry Museum and Soldier Center, a 155-acre tract linking Columbus, Georgia, and the Maneuver Center of Excellence at Fort Benning,is the first world-class site to pay tribute to the U.S. Army Infantryman and those who fight alongside him. Voted the #1 Free Museum in America by readers of USA Today and listed as one of the 12 best military museums in the world by CNN Travel, the museum showcases the contributions of the Infantry Soldier in every war fought by the U.S. by offering immersive participation and engaging visitors in the unique experiences of the Infantry Soldier. The complex also includes a parade field, memorial walk of honor, authentic World War II Company Street, Global War on Terrorism Memorial, Vietnam Memorial Plaza, combat simulators, a full-service restaurant and a Giant Screen Theater. For more information, visit www.nationalinfantrymuseum.org.