Georgia Trust 2018 Spring Ramble Set for Columbus, April 27-29
Feb 16, 2018
FOR IMMEDIATE RELEASE
February 14, 2018
Contact: Traci Clark
404.885.7802
tclark@georgiatrust.org
Georgia Trust 2018 Spring Ramble Set for Columbus, April 27-29
Guests will tour city's historic homes and buildings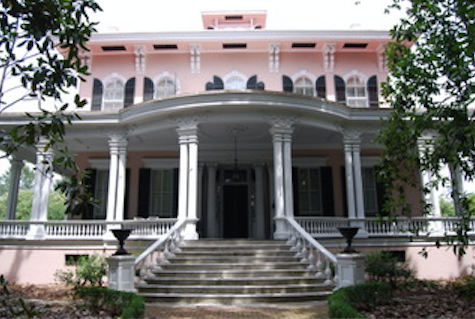 ATLANTA – The rich history and architecture of Columbus, Ga. will be showcased during The Georgia Trust for Historic Preservation's Spring Ramble, April 27-29. The event will offer visitors and residents a rare opportunity to explore private historic homes and buildings that are not usually open to the public.
Each day guests will discover a different historic district located within the city. On Friday, 'ramblers' will tour beautifully restored homes in several historic neighborhoods, including the Peacock Woods-Dimon Circle Historic District, Wildwood Circle-Hillcrest Historic District, Hilton Heights and Weracoba-St. Elmo Historic District, an early 20th century neighborhood containing the largest and most intact collection of Craftsman, Tudor Revival, Neoclassical Revival and Spanish Revival style homes in the state.
Saturday's Ramble will take guests to the original Columbus Historic District, a 26-block Victorian residential neighborhood. Located alongside the Chattahoochee River, the Columbus Historic District has retained its original character and charm while undergoing rehabilitation and restoration.
On Sunday, registrants will tour historic homes in the Wynn's Hill-Overlook Historic District and Dinglewood Historic District, a neighborhood that includes early 20th century residences featuring fine examples of Italianate, English Vernacular Revival and Colonial Revival styles.
The Ramble also includes special dining experiences held at historic sites throughout the weekend. On Friday night, 'ramblers' will enjoy cocktails and dinner at St. Elmo, an exquisite antebellum Greek Revival mansion. Saturday morning, breakfast will take place at Trinity Episcopal Church, followed by a brief historical orientation to Columbus and The Georgia's Trust's Annual Meeting. Lunch will be in downtown Columbus, where 'Ramblers' can choose from a variety of local eateries. On Saturday evening, guests will feast upon a dinner at the Columbus Museum, located in the heart of the Wynnton neighborhood, in a 1912 Mediterranean Revival house. On Sunday, guests will enjoy brunch at the historic Eagle and Phenix Mill Complex, once the largest mill in the South following the Civil War.
A wide variety of registration options are available. To view the complete itinerary or purchase tickets, visit http://www.GeorgiaTrust.org.
About Rambles
Rambles feature tours and social events in historic properties not usually open to the public. Tours of historic homes and buildings are self-guided, and guests provide their own transportation. These trips attract hundreds of participants per Ramble and are offered two weekends each year in the fall and spring. Recent Rambles have included Savannah, Gainesville and Marietta.
About the Georgia Trust for Historic Preservation
Founded in 1973, the Georgia Trust for Historic Preservation works for the preservation and revitalization of Georgia's diverse historic resources and advocates their appreciation, protection and use.
As one of the country's leading statewide, nonprofit preservation organizations, the Trust generates community revitalization by finding buyers for endangered properties acquired by its Revolving Fund and raises awareness of other endangered historic resources through an annual listing of Georgia's "Places in Peril." The Trust recognizes preservation projects and individuals with its annual Preservation Awards and awards students and young professionals with academic scholarships, the Neel Reid Prize and Liz Lyon Fellowship. The Trust offers a variety of educational programs for adults and children, provides technical assistance to property owners and historic communities, advocates for funding, tax incentives and other laws aiding preservation efforts, and manages two house museums in Atlanta (Rhodes Hall) and Macon (Hay House). To learn more, visit http://www.georgiatrust.org.
###