Fort Benning History on the Giant Screen; "Follow Us: 100 Years of Fort Benning" to Premiere at National Infantry Museum
Mar 7, 2019
Fort Benning History on the Giant Screen
"Follow Us: 100 Years of Fort Benning" to Premiere at National Infantry Museum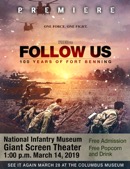 Columbus, Georgia – March 7, 2019: "Follow Us: 100 Years of Fort Benning" will premiere at National Infantry Museum's Giant Screen Theater Thursday, March 14, at 1 p.m. The screening is free and open to the public. Guests will be treated to free popcorn and a drink. Seating is limited.
The film, produced for the Maneuver Center of Excellence by Gepadeux Media, is in celebration of the Army post's centennial. It traces the evolution of a small encampment on the banks of the Chattahoochee river into the world's preeminent military training facility.
A second free screening of the film will be offered at 6 p.m. Thursday, March 28 at the Columbus Museum on Wynnton Road.
The film features interviews with the Columbus Museum's Curator of History Rebecca Bush and the National Infantry Museum's now-retired Director Frank Hanner among others.
###
The National Infantry Museum and Soldier Center, a 155-acre tract linking Columbus, Georgia, and the Maneuver Center of Excellence at Fort Benning, is the first world-class site to pay tribute to the U.S. Army Infantryman and those who fight alongside him. Voted the #1 Free Museum in America by readers of USA Today and listed as one of the 12 best military museums in the world by CNN Travel, the museum showcases the contributions of the Infantry Soldier in every war fought by the U.S. by offering immersive participation and engaging visitors in the unique experiences of the Infantry Soldier. The complex also includes a parade field, memorial walk of honor, authentic World War II Company Street, Global War on Terrorism Memorial, Vietnam Memorial Plaza, combat simulators, a full-service restaurant and a Giant Screen Theater. For more information, visit www.nationalinfantrymuseum.org.