Columbus Botanical Garden Hosts Annual Easter Egg Hunt
Mar 27, 2018
FOR IMMEDIATE RELEASE
March 26, 2018
Contact: Danita Gibson Lloyd
Development & Marketing Director
Columbus Botanical Garden
706.327.8400
Columbus Botanical Garden Hosts Annual Easter Egg Hunt
An Afternoon of Crafts, Face Painting, and More Than 2000 Eggs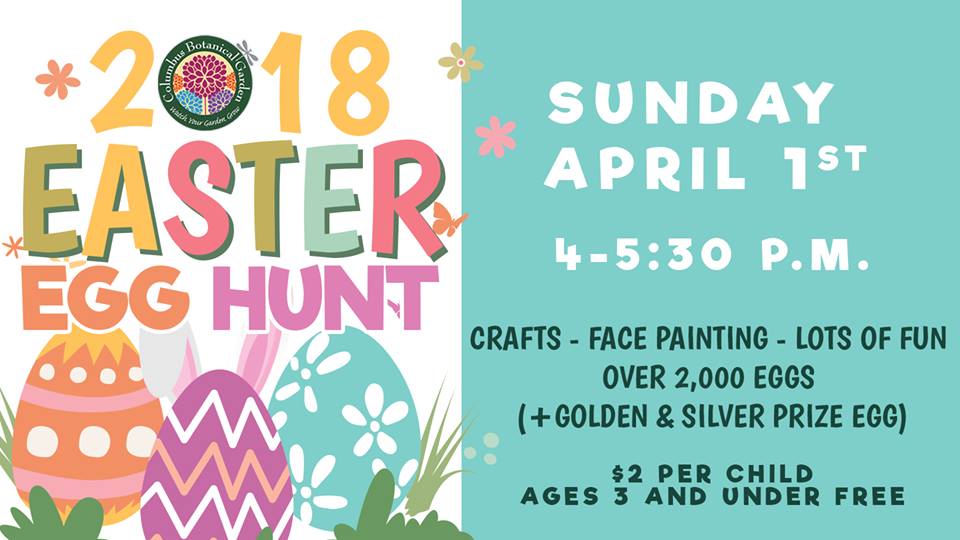 Columbus, Ga., March 26, 2018 – If you want an afternoon of family-friendly fun, visit Columbus Botanical Garden (CBG) on Easter Sunday, April 1, 2018 from 4:00 pm -5:30 pm for its Annual Easter Egg Hunt on the grounds of the Columbus Botanical Garden located at 3603 Weems Road. Only $2 admission per child, children ages three and under will be admitted free. Children will be divided into age groups and each designated a special place in the Garden in which to hunt for eggs.
"The Garden is never more alive than when children are laughing and playing and blessing us with their presence," said CBG Interim Executive Director Bruce Howard. He continued, "Columbus Botanical Garden is eager to welcome the children, and our volunteers have been enthusiastically preparing for them. There will be crafts, face painting, and more than 2000 eggs including golden and silver prize eggs. We are encouraging parents to scoop up their kids and cameras after church on Sunday and come enjoy the Garden with us. You'll create and capture some beautiful memories which will last a lifetime!"
Columbus Botanical Garden 2018 Events
Easter Egg Hunt Sunday, April 1
"BloomFest": Spring Plant Sale and Garden Market Friday & Saturday, April 6 & 7
Backyard Birdhouse Family Workshop Saturday, April 28
"Cocktail Gardening" Friday, May 11
DayLily Festival Saturday, June 2
Garden Gala Tuesday, October 16
"Foliage, Flowers & Fun" Fall Plant Sale and Fall Festival Saturday, October 27
Christmas in the Garden Sunday, December 2
About Columbus Botanical Garden
Nestled in North Columbus amid shopping and eateries, Columbus Botanical Garden operates as a 501(c)(3) organization whose mission is to develop gardens, protect woodland, and provide educational programs that stimulate the imagination and deepen our understanding and appreciation of nature. This preserved jewel of pine and hardwood forest is a remnant reminder of the native Central Georgia landscape that is becoming more scarce as the region continues to develop. Since its founding in 1999 with a gift of acreage and buildings from the children and families of Lillie Belle Kimbrough Adams and later approved by the Columbus City Council, Columbus Botanical Garden (CBG) has been the steward of a 23-acre rolling property located about 6 miles northeast of downtown Columbus. With its recent expansion to 36 acres, CBG now encompasses four developed acres, and there are additional plans for further development with its $10 million "Growing Towards Greatness" Capital Campaign.
For more information on how you can participate in programming, volunteer or donate, please visit www.columbusbotanicalgarden.org, follow us on Instagram @Columbus_Botanical_Garden, like us on FaceBook at http://www.facebook.com/columbusbotanicalgarden, contact our offices at 706.327.8400, email us at contactus@columbusbotanicalgarden.org or visit our offices at 3603 Weems Road, Columbus, Ga. 31909.
####