Build a City with Historic Columbus
Jun 14, 2018
FOR IMMEDIATE RELEASE
June 12, 2018
CONTACT: Callie Hecht
Director of Cultural Outreach
Historic Columbus
(706) 322-0756
http://callie@historiccolumbus.com
Build a City with Historic Columbus!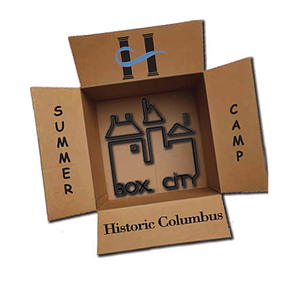 Historic Columbus is pleased to announce the 10th Annual Box City Summer Art Camp. Box City gives a hands-on approach to community planning and design. It also provides an understanding of the development of communities and their present problems and successes. The curriculum allows students to make their own buildings (from cardboard boxes) and create their own cities.
There are two one-week camps, June 11-14 and June 25-28. It is open to all children ages 7-13. Each camp has approximately 40 children. Barnes Gibson Partners Architects, City Councilor Walker Garrett, and Columbus Police Department Mike O'Keefe are our special guests. They will share their knowledge of architectural design, what makes a community great, how to run a city, and so much more.
Historic Columbus invites the media to attend the Box City awards presentation where one camper will receive the "key" to the city! The awards presentations and end of camp party will be held on Thursday, June 14th and Thursday, June 28th at 2:00 pm at the Wynnton Arts Academy Gym.
These camps are not possible without the generosity of the Wynnton Arts Academy, National Society of the Colonial Dames in America Columbus Town Committee, the Kiwanis Club of Columbus, and The Ice Cream Girl. Their kindness enables Historic Columbus to provide a camp that not only brings out a child's creativity, but also gives them an appreciation and awareness of "our town."
If you would like any additional information, please contact Callie Hecht, Director of Cultural Outreach, at (706)322-0756 or callie@historiccolumbus.com.
###