Wednesday, March 1, 2017
What are your #AllOutFave places for art in Columbus, Georgia!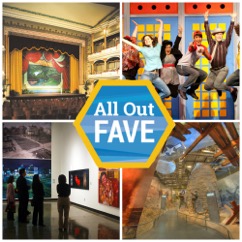 What are your #AllOutFave places for art in Columbus, Georgia!
Art is in the eye of the beholder, or so the saying goes. What's your favorite piece of art; or better yet, favorite place that you retreat to find inspiration?
Share photos of your #AllOutFave art spots in the Columbus region during the month of March for a chance to win prizes, including boutique gift certificates, dining experiences, zip line and rafting trips, and more! Your story is just as important. Here's an important piece of information -- entries must include a 50-word story (a description) of why this location is your favorite.
Sharing is easy! Simply post a photo along with your story -- 50 words or less -- to the Columbus Convention & Visitors Bureau's Facebook, Twitter, Instagram and other social media pages using the hashtag #AllOutFave. Make sure your post or photo is set to PUBLIC, so we're able to see that you tagged us!
Facebook: www.facebook.com/VisitColumbusGA
Twitter: www.twitter.com/VisitColumbusGA
Instagram: www.instagram.com/columbusgeorgia
The contestant with the most shares, comments and likes will win a grand prize package for two that includes a one-night stay in Columbus, zip line adventure, bike rentals and complimentary lunch and dinner in Uptown Columbus.
The contest begins at March 1, 2017 Noon EST and ends at March 31, 2017, noon EST. ("Contest Period"). All entries (submissions) must be received on or before the time stated during that submission period. Sponsor reserves the right to extend or shorten the contest at its sole discretion.
For more information, please visit www.visitcolumbusga.com or call 706-322-1613.