Thursday, January 19, 2017
Unseasonably Warm January Weather Invites You to Enjoy River Rafting in Columbus!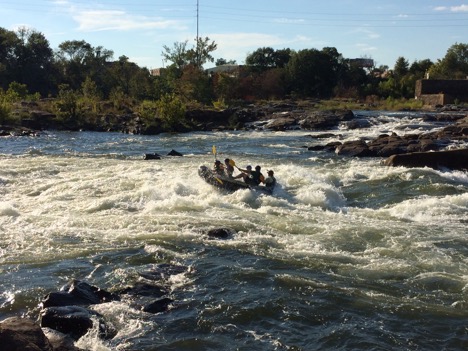 (Photo Credit: Alan Cross)
Unseasonably Warm January Weather Invites You to Enjoy River Rafting In Columbus!
With the forecast for the next week or so showing temperatures in the 70s, Columbus (and the South) is enjoying an incredibly warm winter. With a good bit of rain having come through the region over the past month, the water levels are higher than they were back in the summer as well. All of this combines for the opportunity to go all out and conquer the outdoors by engaging in some summer fun … in January!
From whitewater rafting on the world's longest urban whitewater course, to kayaking, to a zip line across the Chattahoochee River, to geocaching, there is plenty of outdoor fun to be had in Columbus along the river right in the middle of winter. Contact Whitewater Columbus for rates and scheduled rafting trips. We just called them a few minutes ago and they said they had trips available for this weekend. Why not hit the river when the weather feels like Spring but the crowds haven't clued in yet? What better time to go all out and enjoy the outdoors than now? Plus, your body could use the workout to start to melt away the winter lethargy!
The Columbus area has so much to do, so much to enjoy, and so many outdoor activities to take part in. Traditionally, the summers are hot and long and the Spring and Fall is much too short. Winters can be cold and wet. We try to do a lot of outdoor activities during the summer, but the heat can be challenging. When we get warm spells in the winter, Columbus has outdoor activities waiting for you to enjoy, just like during the summer. You don't have to wait till the temperatures are in the 90s. You can enjoy the outdoors around Columbus now!
Categories: River Fun