Wednesday, July 20, 2016
Go All Out & Spend 72 Hours In Columbus!
Recently, South Magazine featured Columbus, GA as a must-experience weekend destination for the foodie, the adventurer, the art, theater, wine aficionado and for the historian. South Magazine writer Eva Fedderly puts it this way,
"Columbus, GA has long been known as a military town resting beside Fort Benning, America's Home of the Infantry. With about 200,000 residents, this historical city has stepped into the spotlight with a thriving downtown art, theatre, music scene, and scrumptious farm-to-table restaurants just blocks from the Chattahoochee River."
Columbus really has been one of the best kept secrets in the South, but that is rapidly changing as travel writers, convention planners and everyday people looking for a fun weekend are taking notice – and they are pretty surprised by what they are finding.
Molly McWilliams Wilkins in her "Girl Meets City" travel series brought home the spirit of Columbus when she said,
"Have you ever left a place, a city, a destination and felt almost like you were in pain? I feel that way whenever I leave a place, and I felt it when I left Columbus. It's that same feeling when you're falling in love with someone – that amazing, euphoric, punch drunk feeling."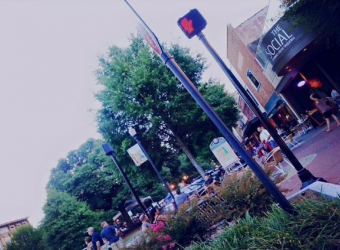 Molly goes on to describe her trip to Columbus with the shopping, food, and entertainment that caused her to fall in love. It's a great piece and a good guide to a great weekend.
Everyone that I talk to who visits Columbus for the first time says the same thing. It is usually some variation of, "Wow! I had no idea that all of this was here!" We agree, and what Columbus, GA offers is growing every day.
Are you ready for a creative weekend adventure full of top restaurants, art, history, architecture, beauty, and adventure? South Magazine might be your guide - or you might want to figure things out for yourself. Either way, there is plenty of opportunity to "Go All Out" and experience what others are recognizing about Columbus for you and your family! Call the Visitors Bureau at 800-999-1613 or access VisitColumbusGA.com for more information to book a weekend.
Categories: Arts, Dining, Events, Military, River Fun, Shopping