Friday, April 1, 2016
Georgia Vines Beer & Wine Festival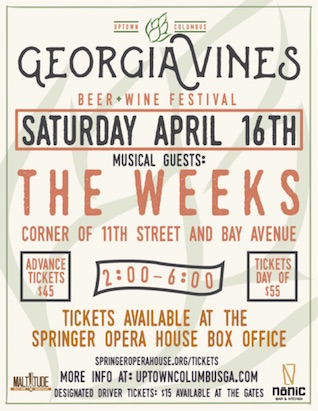 ALL OUT HIP! -- Georgia Vines Beer & Wine Festival--April 16th
If you enjoy Uptown's Fall Beer & Wine Festival, then you have another annual festival to look forward to this year! Uptown Columbus announced a new festival this Spring featuring all things Georgia Made. Visit Columbus, Ga. on April 16th for the the Georgia Vines Beer & Wine Festival, and sample over 100 different Georgia made beers and wines, listen to music from indie rock band The Weeks and munch on Georgia themed food items! There are a limited 1,500 tickets being sold, so be sure to get yours fast.
How does the festival work? Attendees pay an entrance fee, and are given a souvenir sample mug. They then have the opportunity of unlimited samplings once they get into the festival. Attendees can leave their wallets behind, unless they want to try some of the food vendors! Food vendors will be challenged with offering Georgia themed items on its menu. White Oak Pastures, Barberitos, WheelHaus Provisions and Philly-osophy will all be in attendance.
The Weeks, an indie rock band out of Florence, Mississippi will be performing during the festival. Their sound is one of rock and roll with a touch of southern heat. They have played at Bonnaroo, Hangout, Shakey Knees and Austin City Limits. Currently working on a new album, this band is not one to be missed!
Did we mention that the festival overlooks the Columbus GA Whitewater course? As you listen to great music and sip on beer and wine, you will watch rafters take on the whitewater course, and zippers soar across the Chattahoochee River!
This will surely be another annual festival that everyone looks forward to in Columbus. If you love beer, wine & good music, the Georgia Vines Beer & Wine Festival is not to be missed. The festival is selling a limited number of tickets, so be sure to purchase sooner than later. To purchase tickets visit springeroperahouse.org.