Tuesday, March 20, 2018
Reuse and Repurpose For the Love of Junk, at The Southern Lovin' Junkin' Show!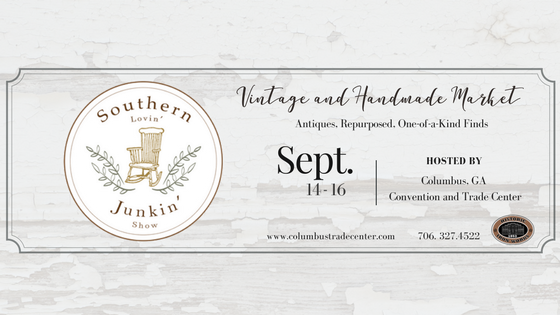 Looking to spruce up a room, or add something unique to a part of your house? The Southern Lovin' Junkin' Show is coming to Columbus, Georgia September 14-16, 2018 at the Columbus Convention and Trade Center.
This vintage and handmade market will have antiques, repurposed, one-of-a-kind finds that you will cherish forever. Not only will you be able to find awesome pieces of furniture for your living spaces, but Friday September 14th from 5pm-9pm, the VIP Southern Lovin' Late Night takes place where you will get three day access to the event, be entertained by live entertainment while you shop that night, along with food and beverages.
Day two, on September 15th, will start at 10am and go until 6pm. New finds will be for sale on this day, so if you can't make it on Friday you'll have a fresh start on Saturday to find the perfect piece.
Day three begins at 12pm and lasts until 5pm. This will be your final chance to find great deals on unique items. Since it is the last day, you may get lucky and make a purchase for less money than was ticketed for, but keep in mind that many furniture pieces are first come first serve in limited quantities. Sunday will be your final opportunity to steal a bargain on an awesome antique or one-of-a-kind find.
Admission is $10 Friday September 14th for a VIP ticket, and $5 gets you in Saturday and Sunday. Children 12 & under are admitted FREE.
While you are here in Columbus, GA, stay a while and enjoy the other events we have going on that weekend. Friday September 14th Columbus will have a Friday Night Concert on Broadway starting at 7pm until 10pm so come enjoy our town
You can't miss out on everything going on, so why not make a weekend of it! Come enjoy the beautiful southern weather, watch how intense freestyle kayaking is, go hunting for antiques, and spend a nice evening in Uptown indulging in some of the amazing food Columbus, GA has to offer.
You won't regret it!
Categories: Arts, Events, Family-friendly, Music, Shopping, Trip Ideas