Wednesday, March 21, 2018
Foodie Fanatics Galore!

Get ready to try an abundance of different foods this Saturday, March 24th for the fourth annual Uptown's Spring Food Truck Festival in Columbus, Georgia. The event starts at 11am until 6pm on Saturday, so come on out and see Woodruff Park and Dillingham Bridge transform into a Food Truck Mecca.
There will over 20 GOURMET FOOD TRUCKS that will set up in our backyard with DJ Dave Arwood playing jams all afternoon. You'll be able to enjoy the sunny and 75 degree weather with family, friends, and even the dog. Food taste better less burned, so don't forget the sunscreen! You're in for a delicious weekend filled with great music and even better food!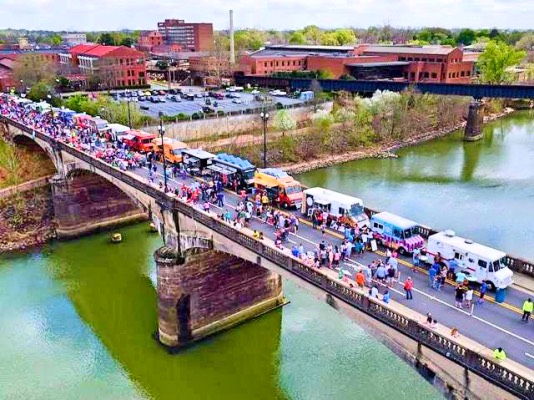 Admission cost $5 per person; children 12 and younger are free. Please bring $5 CASH to the gate. Again, CASH ONLY.
Credit cards and cash will be accepted by the vendors.
I know, I know. Why give a cover charge when you will be paying for food?! Your money will be going towards operational costs to run the event (table, chairs, tents, entertainment, lighting, sound, power, marketing, fencing, etc.) AND fundraising for Uptown's year-round programming. Revenue earned will go directly back into bringing Columbus more FREE events such as RiverFest, the Big To-Do Friday Night Concert Series, Spooktacular, Broadway Holiday and so many more.
Table and chairs will be provided, but guests are welcome to bring their own too. If you do bring your own chair, we ask that it be collapsible, tailgate style chairs. No reclining lawn chairs. NO outside coolers.

Come one, come all and enjoy the beautiful spring weather that Columbus, Georgia has to offer. While your at the festival, walk down to the RiverWalk and experience a night in Uptown. I can't think of a better way to start the season off!
Below is a list of the food trucks that will be at the festival March 24, 2018.


2018 SPRING FOOD TRUCK LIST - Subject to Change

Tex's Tacos
Let's Taco Bout It Food Truck ATL
Low-Co Motion
Jerk Brothers
Peace Of Pita
Royal Pig Pub
Hibachi
The Filipino Food Truck
Chicken Coop
Patty Wagon ATL
Holden
Namaste
Hole In The Wall Buckhead
Five Finger Philly
The Pup Truck
Gekko Sushi - Atlanta
On the Roll
Triple Jay's Pizza
Chazito's Latin Cuisine

For more information, go to www.UptownColumbusGA.com or call 706-596-0111.
Categories: Dining, Events, Family-friendly, Festivals, Music, Outdoors