All Out Inspired
Get the latest on events, ideas and ways to go all out in Columbus, Georgia!
March 14, 2018
Columbus Goes All Out Green for St. Patrick's Day Weekend!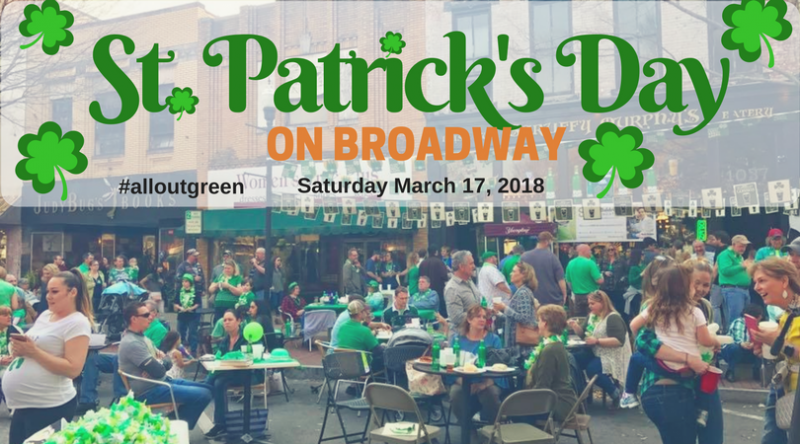 Columbus has a St. Patrick's Day full of things to do that will leave you feeling the luck of the Irish. Whether it be shaving it all off for St. Baldrick's Foundation, grabbing a pint at Scruffy Murphy's Irish Pub & Eatery, heel clicking past the finish line in true leprechaun style in the Big Dog Fleet Feet St. Paddy's 5k race, or doing an Irish jig out on Broadway while enjoying the outdoor band concerts, you are bound to have a shamROCKIN' time!
St. Patrick's Day falls on a Saturday this year, with events lasting all evening inviting guests to grab their green, get out and have some fun! Columbus will help you with that by doing what we do best and throwing a street party at the 1000 block of Broadway!
Uptown Columbus & Scruffy Murphy's Irish Pub & Eatery are shutting down Broadway & painting it green! Everyone is Irish on St. Patrick's Day so come out and join in the fun!
All the events are FREE and family friendly!
Activities start Saturday March 17 at 3:00 pm and last until 10:00 pm, but that doesn't mean you can't start the party early! Head down to Scruffy Murphy's Pub & Eatery and enjoy authentic Irish pub food with a fresh pint of your favorite beer. Before you know it, at 3:00 pm PMB Broadcasting, LLC will be jamming out to some Irish beats until 3:30 pm when Celtic/Irish dancers will take the stage. Once the dancers have showed us how it is done St. Baldrick's Foundation will be shaving heads for charity that funds childhood cancer at 4:00 pm, and after that Music starts at 5:00 pm with the locally grown Irish/Celtic/Folk band Wolf & Clover. At 6:30 pm the Big Dog Fleet Feet St. Paddy's 5k race starts, then at 7:00 pm music kicks back up with The Ragbirds, a band originating from Michigan who bring something new to the realm of folk/roots music.
Make a weekend of it and stay in Columbus. Then, visit our world-class museums, go white water rafting, eat at great restaurants, shop, and partake in as many adventures as you can fit in the weekend! The Spring is the best time to "go all out" and create your very own getaway weekend!
Below is the Schedule of activites for Saturday March 17, 2018:
3:00 pm-3:30 pm: PMB Broadcasting, LLC w/ Irish Music!
3:30 pm-4:00 pm: Celtic Traditions-Drake Aurburn Irish Dancers
4:00pm-5:00pm: St. Baldrick's Foundation, Columbus GA Events
5:00pm-6:30pm: Wolf & Clover Concert!
6:30pm: Big Dog Fleet Feet St. Paddy's 5K race starts!
7:00pm-9:00pm: The Ragbirds Concert!