The Amazing Erth's Dinosaur Zoo Comes to RiverCenter on November 14 at 7:00 p.m.
Nov 7, 2017
FOR IMMEDIATE RELEASE
CONTACT: Carrie Corbett
November 7, 2017
Director of Marketing
706-256-3608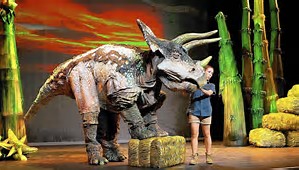 ERTH'S DINOSAUR ZOO ROARS AT RIVERCENTER
The amazing Erth's Dinosaur Zoo comes to RiverCenter on November 14 at 7:00 p.m.
Incredible, life-like puppets bring an amazing assortment of dinosaurs to life, from cute baby dinosaurs to some of the largest carnivores and herbivores that have ever walked the planet. Erth's dinosaurs are unmistakably 'alive' and most friendly in this fun, educational and unique performance that will delight audiences ages 5 and up.
RiverCenter will present Erth's Dinosaur Zoo together with Burger King as part of its Discovery Series.
Tickets are on sale now and can be purchased at RiverCenter's Box Office Monday-Friday from 10 a.m.-5:30 p.m., by phone at 706-256-3612, and online at www.rivercenter.org. A limited number of tickets for matinee performances at 9:30 a.m. and 11:30 a.m. on November 15 are available to the public by contacting the Box Office.
RiverCenter Inc. is your independent nonprofit arts organization proudly serving the Chattahoochee Valley. For more information about the performances, please contact Carrie Corbett at ccorbett@rivercenter.org.