RiverCenter Presents U.S. Army Field Band & Soldiers' Chorus
Feb 7, 2018
FOR IMMEDIATE RELEASE
February 7, 2018
CONTACT: Carrie Corbett
Director of Marketing
RiverCenter
P.O. Box 2425
Columbus, GA 31902
706-256-3608
RiverCenter Presents U.S. Army Field Band & Soldiers' Chorus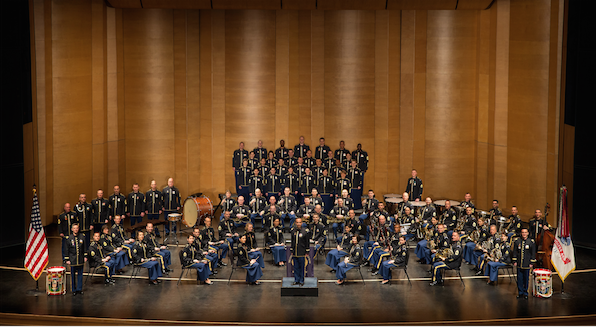 Columbus, GA—RiverCenter presents the internationally acclaimed United States Army Field Band & Soldiers' Chorus in a free public performance on Monday, March 5, 7:30 p.m.
The 60-member Concert Band and the 29-member Soldiers' Chorus are the oldest and largest of The U.S. Army Field Band's performing components. These two ensembles combine to present joint concerts on their national tours, performing in all 50 states and 30 foreign countries for audiences totaling hundreds of millions. The joining of these two ensembles allows them to offer unparalleled versatility of programming, ranging from orchestral masterworks and operatic arias to Sousa marches, jazz classics and Broadway musicals. The band and chorus also perform independently and have shared the stage with such ensembles as The Boston Pops and the National Symphony Orchestra. The Concert Band and Soldiers' Chorus frequently represent the Army at formal and ceremonial functions including the Presidential Inaugural Parade, presidential funerals, The Army All-American Bowl and diplomatic efforts overseas, earning them the title "The Musical Ambassadors of the Army."
"The United States Army Field Band and Soldiers Chorus comes to us at the perfect time to recognize the Centennial celebration of Fort Benning," said RiverCenter Executive Director Norman Easterbrook. "We are especially pleased that the performers will be in town for an entire day and will be visiting music programs in area public schools. RiverCenter presents this program free for the entire community as a service to residents of the region and also to support the great music and cultural tradition of the United States Armed Forces."
"Our performances bring the Army to your hometown, and that's something we are honored to do," Col. Jim Keene said. "The extraordinary Soldiers of the Army Field Band have devoted their lives to music and now serve to inspire the American people and to honor Soldiers and veterans at home and abroad."
While the concert is presented at no charge, a ticket is required for admission. Tickets are now available at the RiverCenter box office. Tickets are limited to 4 per patron. Box office hours are Monday-Friday, 10 a.m. - 5:30 p.m. Ticket holders must be seated by 7:15 p.m. the evening of the concert. Empty seats will be made available to non-ticket holders at 7:20 p.m.
Attached: photo, United States Army Field Band & Soldiers' Chorus
RiverCenter Inc. is your independent nonprofit arts organization proudly serving the Chattahoochee Valley. For more information about RiverCenter performances, please contact Carrie Corbett at ccorbett@rivercenter.org.
###